Publié le 2 novembre 2010, dans Évènements
Sibex– Chine (Shenzhen) International Boat Show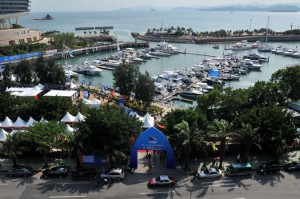 Du 4 au 7 novembre 2010 se tient à Shenzhen, SIBEX le salon nautique international organisé par Shenzhen Yubo Exhibition Group, Europexpo et le Grand Pavois Organisation (GPO).
Une édition plus élargie qui permet aux visiteurs asiatiques et d'autres pays de découvrir les nouvelles tendances de la plaisance, les nouveaux bateaux issus de toute cette industrie nautique avec une grande représentation française.
Un marché international comme présenté par ce communiqué.
For the 2010 edition (from 4 to 7 November 2010), SIBEX will be one more time co-organized between Shenzhen Yubo Exhibition Group, Europexpo and Grand Pavois Organisation (GPO). Our will is to promote, enhance and develop this international boat show towards a population in search of a new recreational hobby in China: boating. The goal: make « Sibex – China (Shenzhen) International Boat Show » a reference for International boat show in China and South-East Asia. Its assets: to maximize the attendance of boats of prestige and International exhibitors, to give the opportunity to try yachts at sea and to make contacts with potential local and international professionals. The boat show will also innovate in terms of services for the exhibitors by organizing "Business Networking Meeting" to develop commercials relationship between marine professionals and by offering a large range of products and services: VIP reception area, private parking, personal invitations and private parties.
Boating in China: a rapidly expending market
At the second 2010 trimester, China has overtaken Japan to become the world's second-largest economy.
Due to the number of inhabitants, China becomes the world's No.1 auto market, 1st raw materials overseas importer, 1st steel manufacturer and a great financial power with Shanghaï and Shenzhen stock exchanges. 3rd World capitalization market with 3 trillion dollars, Chinese market is now one of the biggest just after New York and Tokyo. The report released by Boston Consulting Group (BCG) in November 2009, states that the number of 450,000 millionaires (US dollars) is expected to reach 800,000 over the next four years.
Presence of leaders brands
A week before the event, it is clear that many international brands have realized the importance of being involved in the Asian market and, more specifically in China.
Many Chinese and International brands will attend this edition:
Ferretti, Riviera, Azimut, Sunbird, Cranchi, Four Winns, Rinker, Beneteau, Lagoon, Jeanneau, Hanse, Fairline, Sunseeker, Alubat, Fountaine Pajot, Marquis, Leopard Catamarans, Riva, Nautitech, DynaYachts, Mc Kinna, Heysea, ArrowCat, SilverMarine, Novatec, Sea Stella, Farnova, Sunreef, Hunter, Albatross Yachts…International brands coming from United States, Australia, France, Italia…
Among the major boats to see, on the sail side, note the presence of Beneteau Oceanis 58, Jeanneau 57, Alubat's Cigale 18, Hanse 47, catamarans Sunreef 62, Lagoon 500 and Leopard 38… On the power yachts side: notice the presence of a Princess 65, a Feretti 50, a Riva 56, Jeanneau's Prestige 510, a Azimut 53S, a Novatec 56 as well as Sunseeker that will display four vessels including a Manhattan 70. The most important yacht will be a HeySea 75.
The in-water exhibition should include about fifty boats from 9 to 22 meters.
Da Mei Sha's marina in Shenzhen stills expands since last edition.
The 2010 edition of SIBEX will be held in Da Mei Sha's marina located in Yantian district (Shenzhen).
This marina can welcome hundreds of boats and has many assets to make this second International edition a success. Note that a third pontoon was added to welcome the in-water exhibition. Thus, 300 boats can moor in the marina. The exhibition held on land that was optimized and renovated in 2009 will be identical in 2010. The 2010 edition of the Sibex – China (Shenzhen) International Boat Show will value the boats and the international and Chinese leaders brands that will attend the show.
SIBEX (SHENZHEN – CHINA)
Established in 2007, the Sibex – China Shenzhen International Boat Show has rapidly grown to become in three editions, one important rendezvous of the Asian marine business calendar. Held in Shenzhen (China) Marina Club located in Da Mei Sha Bay, this boat show is conveniently located near Hong Kong and proposes an in-water exhibition, that gives it a unique value for southern China. Sibex was called "the top in-water boat show in China » by the press and the exhibitors.
GRAND PAVOIS ORGANISATION
Grand Pavois Organisation offers to nautical event a custom-built expertise, advices, unique know-how and experience in France and abroad. Organizer since 1973 of an internationally well known afloat boat show, GPO has a real proximity to marine professionals, a recognized expertise in the world of offshore races. GPO has a yearly team that is dedicated to marketing and sales development, technical and logistic, communications and press relations, partnerships and public relations.
International references: the International afloat boat show the Grand Pavois since 1973, Volvo Ocean Race (1998 and 2002), BT Global Challenge host port (2001 and 2005), the Défi Atlantique (transatlantic race qualifying for the 2004 Vendée Globe), the Charente-Maritime / Bahia Transat 6.50 (2001, 2003, 2005, 2007, 2009), the Grand Prix de France – Powerboating Formula 1 (2007), Maud Fontenoy's L'Oreal Paris French tour (2007), the organization of Voiles des Neiges in La Clusaz (2006 and 2007), Clipper Round the World Yacht Race host port (2009), Sibex – China (Shenzhen) International Boat Show (2009 and 2010), Velux 5 Oceans start village in La Rochelle (2010)…